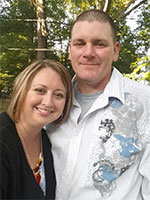 Church Secretary
(765)762-3382
Hi! I'm Sara! I've been attending Williamsport Christian Church since August of 2010. I grew up in a
small Independent Baptist church in Syracuse Indiana. Ever since I was small, my parents were involved
in church ministries. I'm grateful for their everyday example of what it is to be His servant. Now, I have
the pleasure to serve here at WCC with my husband and children.
Since accepting the position of secretary, I've been excited about being able to be even more involved
with WCC. I enjoy computer work, photography, organizing, and writing. I've been able to utilize all of
these as secretary!
I'm so happy to be part of the staff and am looking forward to the future and continued growth of
Williamsport Christian Church.